What does it take to rank in Google for the Higher Education Industry right now? We put on our SEO analysis glasses, did our research, and we are now uncovering the top SEO challenges and struggles faced by universities and colleges, with actionable insights and examples.
Without further ado, here are the top SEO tactics and recommendations to follow to correctly and efficiently execute Search Engine Optimization as part of your higher education online marketing plan.
Run an on-page SEO audit on your website
Higher education websites have a tendency of featuring several tens of pages, sometimes on different subdomains, with the bulk of their pages not getting any SEO love whatsoever. These overlooked landing pages can include pages with courses that have been removed from the educational institutions' curriculum, staff bio pages of professors no longer working for the said institution, and even entire sections of the site, such as the News or Blog.
Articles, blog posts, and other forms of content can be created to inform and educate future school applicants and their parents. For businesses in the education vertical, these can be a sustainable source of fresh content, ranging from details on specific courses, alumni success stories, campus life stories, etc. From a digital marketing perspective, this is content marketing and can serve as a means to widen your audience and site's traffic. However, looking at a variety of higher education sites we discovered that most universities are not taking advantage of their Blogs, with the latest blog posts being published 5 to 6 years ago, while others could very well prevent future enrollments, by including sensitive content.
Just imagine being a parent doing some basic research on campus life, student stories, or other topics, on this University for his student child. Would you be ok with your son/daughter enrolling in this school after stumbling upon their Blog?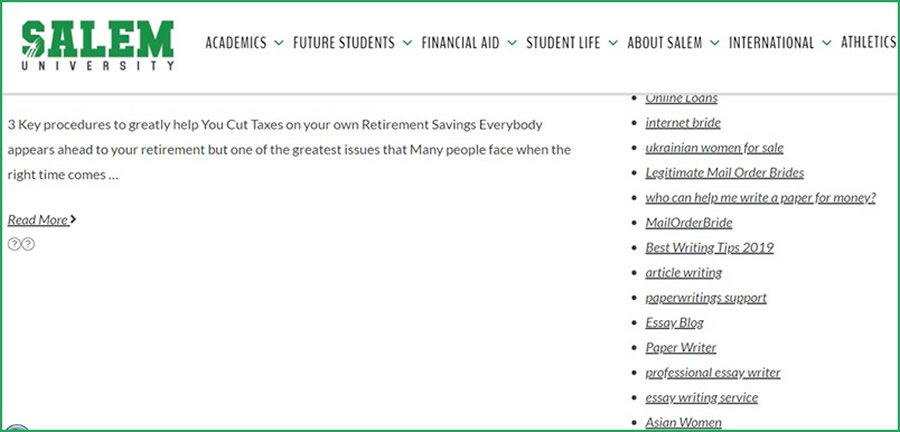 Keep an eye out for duplicate content
While content is king for SEO, duplicate content has the potential of damaging any site's visibility in search engines, including in the education vertical. One of the most frequent issues with duplicate content on .edu sites is generated by the incorrect implementation of the HTTPS secure protocol.
For example, the California State University of Los Angeles site can be accessed through both HTTP and HTTPS, and the indexed version of the site is the unsecured one. And while users may not have a complete technical understanding of secure connections, they do understand that they want a site to be HTTPS if they are providing personal information, such as information required for an online enrollment.

Address indexation issues
Indexation is a critical component in building a strong SEO foundation and one of the most common issues generating crawl errors. Simply put, in order to show up in search results, your pages need to first be visible to search engines.
Monitoring education sites' indexing is mandatory for sustaining the site's health, but auditing for possible indexing issues is vital when doing a website redesign. The Women's College Scripps of Claremont site redesign, done in the last quarter of 2019, overlooked the SEO component of indexing. Most of the site's pages, including the homepage and entire sections of the website, show the meta robots set to noindex, nofollow. This setup completely blocks pages from being indexed and rendered in search results.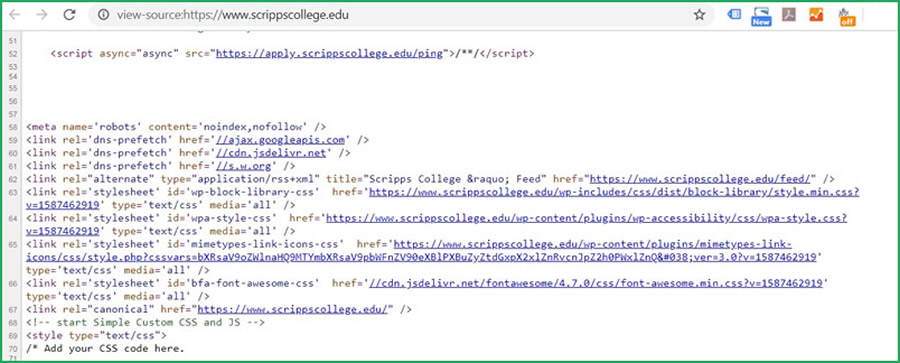 How does this SEO omission translate into the SEPRs? Doing a simple search for their financial aid information returns in the first two positions of search results third-party loan aggregators, followed by two PDFs, on Financing Your Scripps College Education 2014-2015, respectively 2016–2017. Their private loans information is practically invisible to search engines, while it exists on their website.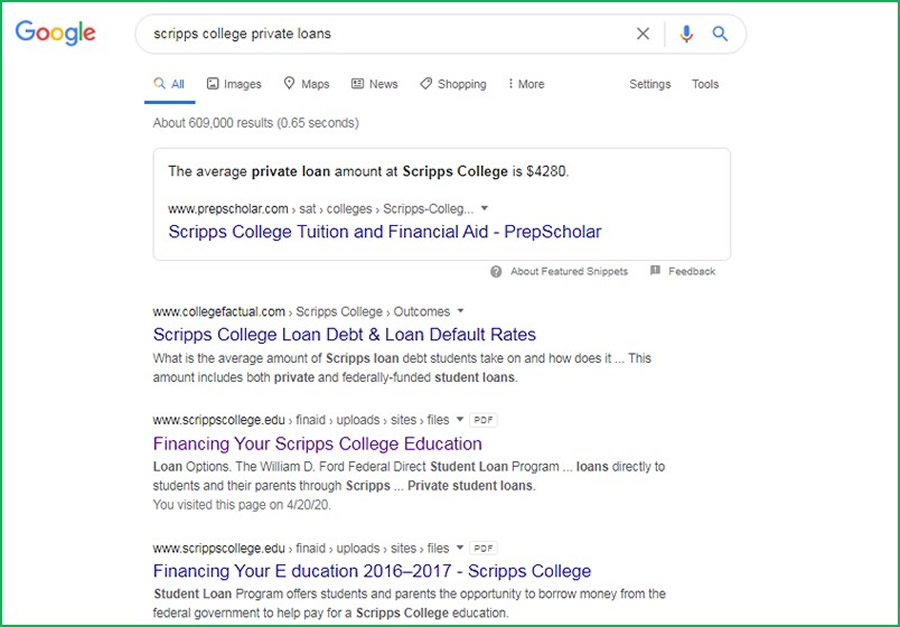 Remedy speed load issues
Page load speed does affect SEO, being one of the direct ranking factors for Google, confirmed by Google's Algorithm Speed Update back in 2018. One of the most common reasons for slow loading speeds on educational websites are large image sizes. And while visuals can go a long way in attracting enrollments for higher education institutions, they can also break your site's visibility in search engine results. However, simply compressing, scaling to size and optimizing images can make a huge impact on improving page load speeds. Even more, optimizing images can be made without compromising on quality.
Waiting for the Skagit Valley College website to load was a real challenge for our willpower, with the site taking over 11 seconds to load. As expected, top recommendations included Serve Scaled Images & Optimize Images.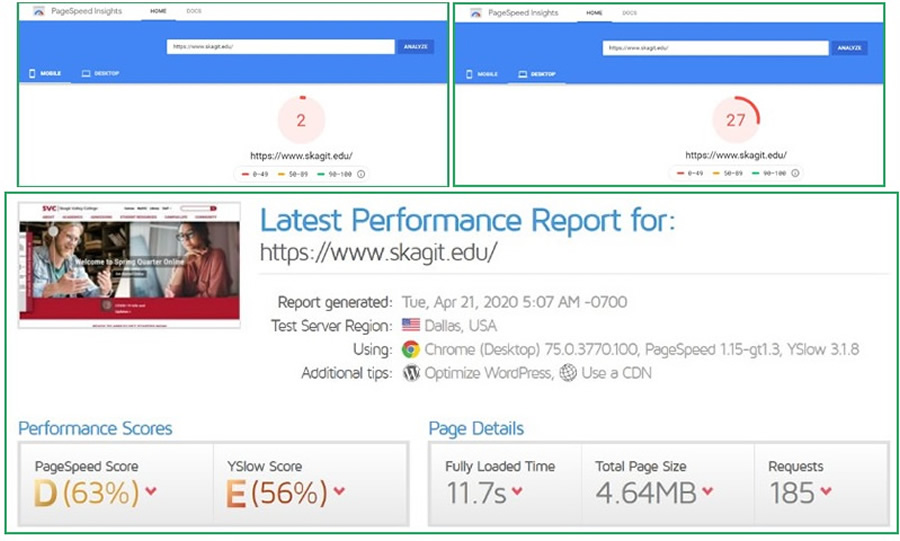 Optimize for mobile
More than half of all searches performed on Google are done via a mobile device. In many industries, mobile share of traffic can far exceed 50%, and the education vertical is certainly one of these, with their target audience consisting of users between the age of 18 and 24, which are more likely to spend time on their phones than on a desktop computer. Mobile users will carry out most tasks on their devices, from asking questions on the admissions process, to contacting their counselors and even completing an application for admission.
Mobile-first may pose a problem for education sites, on the grounds that they feature multiple websites and content management systems under one global domain. This might often mean that some parts of the site are mobile-ready, while some are not.
Looking at the California College of the Arts website, we see that the www subdomain is mobile-friendly, while its info subdomain, hosting their blog, is not.

Reclaim broken inbound links
Building great inbound links is key for SEO success, with the right backlink performing simultaneously on two fronts: it can drive referral traffic to your site and it can help you rank higher in search. And while in some industries they require hard work, in the education vertical gaining legitimate inbound links comes with little to no effort.
So what causes broken inbound links? Site redesigns and degrees and programs being removed or even renamed look to be the top broken links generators on education sites. Through link reclamation however, once valuable inbound can be quickly regained by just fixing the broken links.
We ran a broken backlinks audit for The Women's College Scripps of Claremont and while the Scripps College stocks nearly 500K inbound links, it also has over 400K broken inbound links according to Ahrefs. By reclaiming its broken backlinks, the Scripps College would increase its inbound links for SEO by an astounding 80%.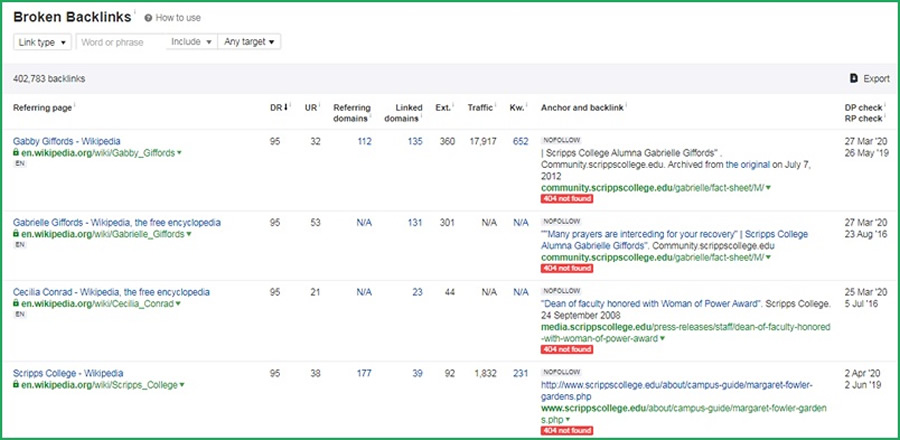 Improve your site's organic reach and meet students' intent with keywords
Since Google Analytics dropped a significant number of organic search keywords from its reporting, it is time to level up your keyword research and analysis. Use Google search recommendations for insight into the most common search terms students use to find your site, and enable Site search Tracking to track your users' search queries on your site.

With the rise of voice search, question phrases should not be neglected as they are very likely to be used by prospective applicants and student parents to discover colleges, universities and degree programs. Use an aggregation tool such as Answer the Public, offering instant search insights on the most common questions related to your brand and degree programs.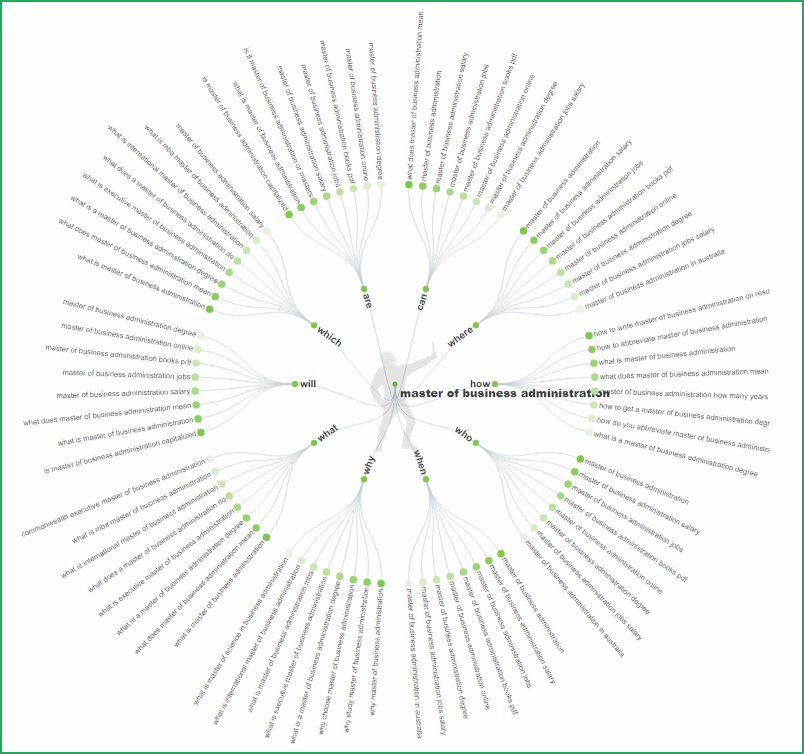 Keep your Wikipedia page updated
Keep your higher education institution's Wikipedia page updated and free of inaccurate data, as it appears at the top of organic search results and is used for populating the information displayed by the Google College Search feature. In an effort to help prospective students navigate the college search process, Google introduced a new feature to Search. The new College Search Knowledge Panel only applies to undergraduate 4-year U.S. colleges and provides information about admissions, cost, majors, student life and more. According to Google, this new feature uses public information from the U.S. Department of Education's College Scorecard, from the Integrated Postsecondary Education Data System (IPEDS), but also from your higher ed institution's Wikipedia page.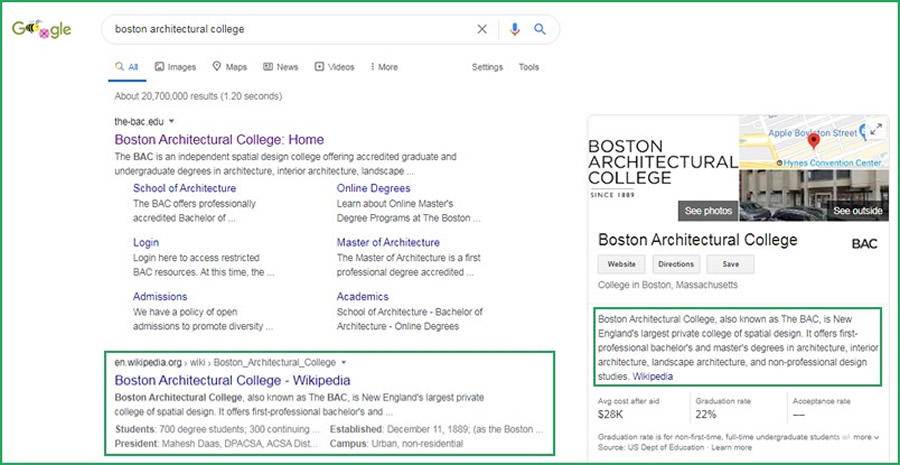 Stay on top of local search
When student prospects are looking for colleges or universities in a certain region, you want to make sure your institution is front and center. Make sure to claim your GMB listing and work on achieving NAP consistency across your contact page and other local business directories. This local SEO tactic can be automated using a local business management platform, such as Yext. Schools with multiple campuses or offices need to create individual GMB listings for each location.
Making your local listings visually appealing can also influence your enrollment numbers, so make sure to include attractive images of the campus, from your classrooms, but also of surrounding areas, such as tourist attractions.
Looking at the local footprint of the Boston Arts Academy, we see that the business is either not listed or is listed with the wrong address on some of the top local listings directories.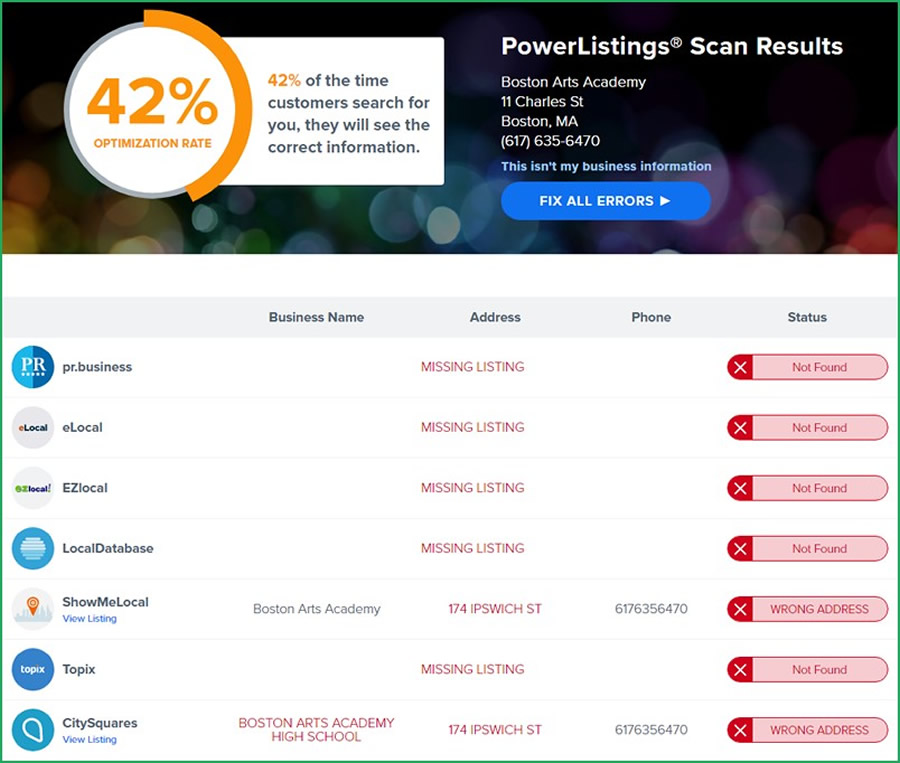 As a full-service digital marketing and advertising agency, inSegment can help your education site with a high-level SEO audit, focused on on-page, indexing and off-page search engine optimizations. Our dedicated SEO services for the higher education industry are designed to help university and college sites perform better in search results and offer flawless user-experience. Contact inSegment to learn how we can help you engage with prospective students and generate a greater number of higher education enrollments with our comprehensive SEO strategies.