We tuned 16 this year! In honor of this momentous occasion, we're revitalizing our image, and launching our brand new website.
It's funny how things turn out, we've been in the business of revamping and launching awesome websites for our clients for so long that the thrill, excitement, and (yes) anxiety, we felt when working on our own website kind of took us by surprise.
Why the change?
Simple! It was time to upgrade our appearance to reflect our leveling-up as an industry-leading digital marketing agency. This led to an extensive, internal initiative to revamp the company's image, and showcase to potential new partners just how much success the agency has brought, and continues to bring, to clients.
While our first website and logo were founded on a schematic idea of segments of all things, our new site was influenced by two things: firstly the universe (planets and space voyage) to reflect our commitment to doing innovative, next-level marketing, with professionalism and quality; and secondly playful and fun to reflect our mission to make digital marketing easy and engaging for our clients.
Check out our new LOGO
The agency's brand identity has been revitalized to embody its growth, expertise, and forward-thinking mindset. The team has modernized its familiar logo, ensuring clients can still recognize inSegment but demonstrating how the company's drive for innovation in the ever-changing digital marketing landscape impacts every decision made.

Check out our new WEBSITE
inSegment's futuristic design takes users on an engaging and entertaining journey through the agency's digital marketing services while offering the optimal blend of functionality, visuals & information. The mobile-first design approach & revamped menu ensure intuitive and seamless navigation, while the conversion-focused landing pages encourage users to contact the agency.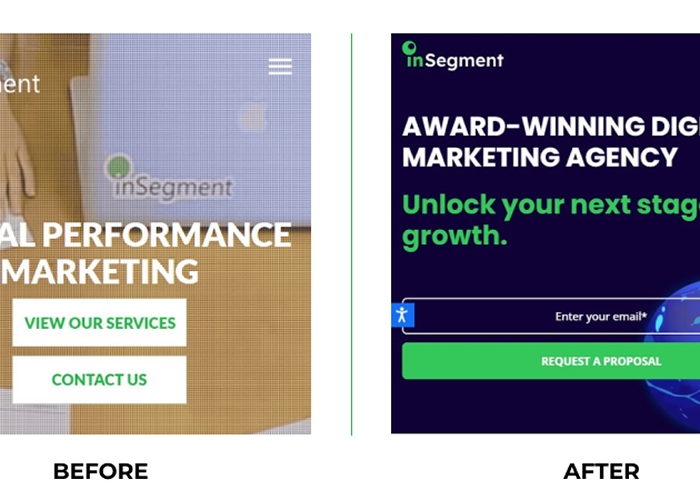 Check out our CAPABILITIES
The new inSegment website demonstrates the true breadth of the team's digital marketing expertise and experience. Working across strategy, creativity, and a meticulous engineering process, inSegment prides itself on delivering quantifiable, high-impact marketing results, and nobody has seen the extent of these results more than inSegment clients, both past and present.
Check out our CLIENTS' SUCCESS STORIES
Visitors to the new inSegment website will find an extensive catalog of case studies and testimonials from clients. Operating as an extension of their clients' teams, inSegment team members take incredible pride in their clients' success and they've used their new website to demonstrate to the world just how talented these partners are, while also showcasing some of their partners' groundbreaking work across many fields. 
A Big Thank You to the team!
Big kudos goes to our amazing Business Intelligence, Lead Generation, Web Development & Creative teams for their inspiration, dedication, and commitment to the project and for their fantastic work. 
Check out the Full Press Release